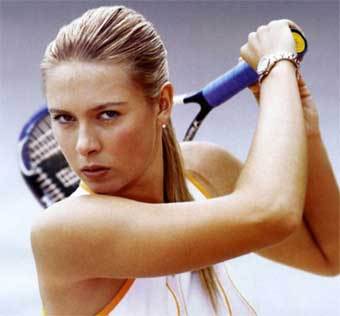 From Maria Sharapova's revelatory blog, which should, I hasten to say, have been updated post-U.S. Open:
I also listen to my iPod all the time. I love music. The new Coldplay is sooo good. I can't stop listening to that. Also, I've been into a lot of Dance and Club music. It keeps me moving. Sometimes I have to dance on the plane cause I can't control myself.

What am I reading? Fashion magazines. Lots of them. All that I can get my hands on. After reading a good novel, it's great to flip through magazines. As everyone knows I love fashion. I can't get enough of it. It makes me want to go shopping. Doesn't that sound fun?
Um, yes. But not as fun as reading her take on Tolstoy would be. That, not the new chicklit tome of the month, is what teenage Russian tennis stars built in Florida's Blonde Tennis Star Factory consider good novels, right? Let the gossip start here then. I'm breaking the NDA I signed with Sharapova Enterprises to leak to the world the luminary's newest media move: intellectual. Look for a 3,000 word Sharapova essay on Isaac Babel in an October issue of the The New York Review of Books. And remember, you didn't learn that here. Not unless you want a visit from Yuri and Slava.